Craftsmanship
Craft Series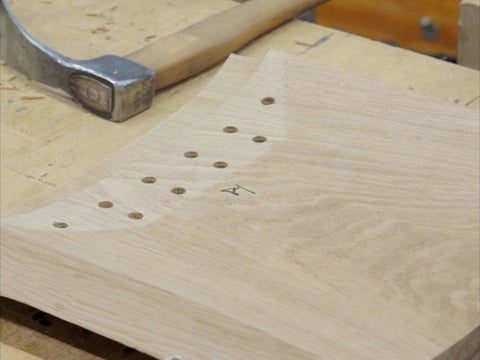 At the heart of Pierre Yovanovitch Mobilier is a 'haute facture' approach to design working with Europe's finest craftspeople to create works meant to last a lifetime.
The brand brings Yovanovitch's "Made in France" style of understated elegance together with expert-artisanry, and consciously-sourced materials, to offer timeless pieces. The works are made in collaboration with some of France and Switzerland's makers, including: renowned French ceramicists, French textile specialists who are recipients of the 'Meilleur Ouvrier de France' award and speciality glass blower from Switzerland, to name a few.  
Our sustainability efforts center around our use of raw materials obtained from natural sources, making it possible to create long lasting works. These materials are sourced with consideration of their footprint and their exceptional-quality.
Wood
Wood
Pierre Yovanovitch Mobilier uses wood sourced locally from French forests, including solid oak, walnut and larch. Our speciality woodworkers incorporate traditional craftsmanship techniques and joinery methods. Our pieces are produced according to the highest standards of sustainability, utilizing only water-based coating materials and limited adhesives. 
"I like materials that can be shaped but are never completely predictable. My predilection for solid wood is largely due to the fact that its material evolves over time, in a way that the cabinetmaker will have anticipated but never completely planned. In a way, solid wood keeps a part of freedom and can always surprise us. I like uniqueness, individuality. This is to some extent contradictory to the idea of design but it makes my work exciting. It refers to the vagaries of nature that we cannot tame." – Pierre Yovanovitch
Glass
Glass
Our glass pieces are sourced from Germany and crafted in Switzerland by speciality glassworkers who are well versed in the Murano technique. As an adaptable and malleable material, our works are created using a variety of techniques, including: hand-blown, cast or fused glass, combined with a polished, sandblasted, ground or thermoformed finish and custom colors.
Ceramic
Ceramic
Our ceramic works are made from all natural materials, including natural clay and terre d'Irak. They are offered in a wide variety of glazes making our pieces suitable for indoor or outdoor use. We work with renowned ceramic artisans in both France and Portugal, who incorporate artisanry techniques, to craft lighting, seating, tables, wall pieces, and flooring. The multitude of glazing options and custom, painterly style of finishing makes each ceramic piece one of a kind.
Textile
Textile
As with all of the materials Pierre Yovanovitch Mobilier works with, our textiles are hand selected by Yovanovitch himself for their superior quality. For our seating, we offer a variety of fabric types made from a combination of different natural fibers. Each fabric is tested for quality and durability. We offer rugs which are hand-tufted in France as well as hand-knotted rugs made in Nepal. Our embroidery work is done by the acclaimed Lesage Interiors and our textiles and upholstery is predominately handled in France.
Metal
Metal
When it comes to metalwork, Pierre Yovanovitch takes inspiration from vintage designs of the 1930s and 1940s, when metal was incorporated in unexpected and creative ways in furniture design. Steel, brass, cast bronze, wrought iron all come from workshops of ironworkers and foundries based in France, which incorporate their own custom techniques. We work with unique patinas based on the individual properties of the metal. Metals offer a wide range of textures, from brushed and patinated brass to varnished bronze.