News
Pierre Yovanovitch inaugurates new Paris gallery location with special anniversary collection of Asymmetry armchair with artist Claire Tabouret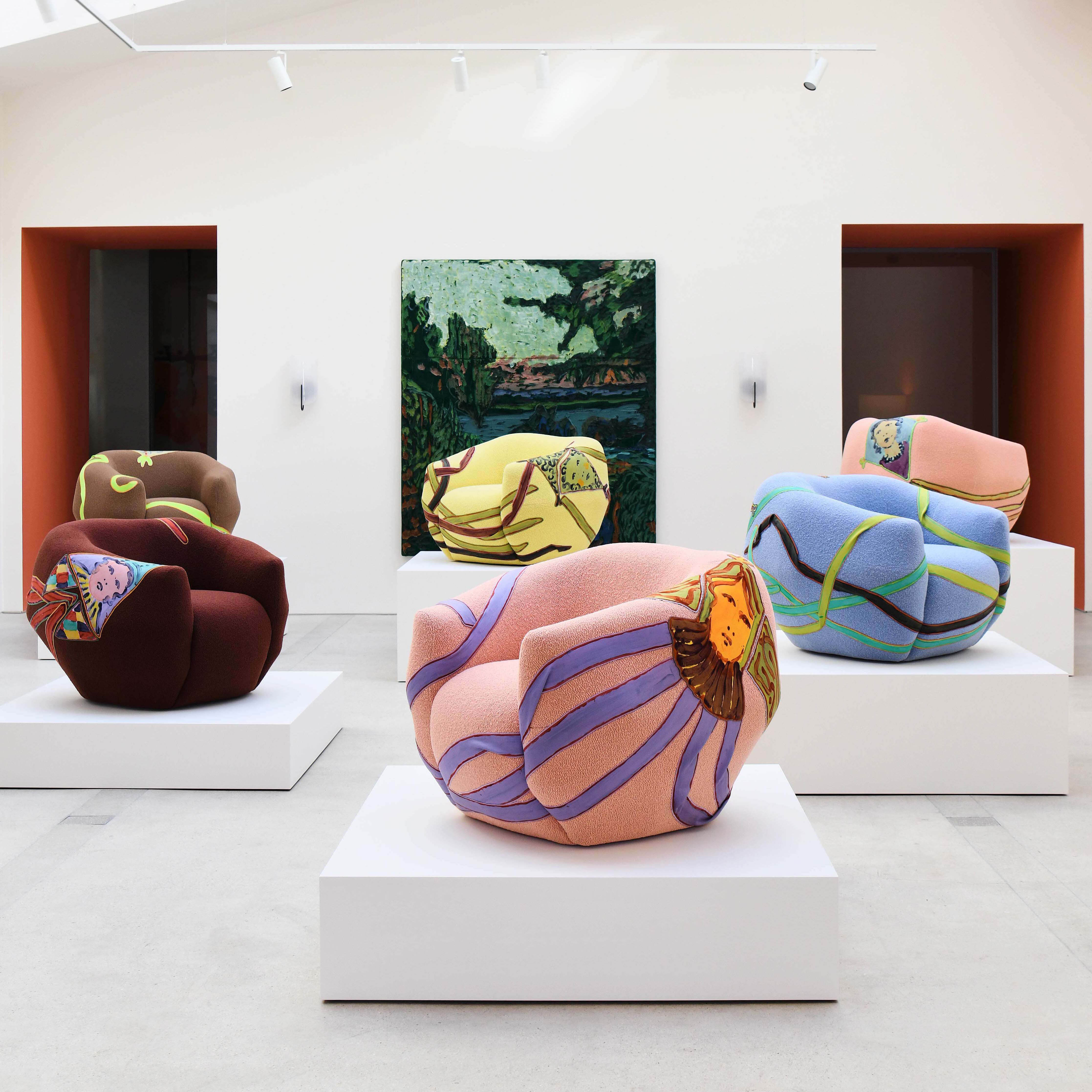 Venue
Pierre Yovanovitch Mobilier Gallery
Date
October 13th - October 28th 2023
This fall, after over 20 years of creating made-to-measure furniture for his design practice, Pierre Yovanovitch will open doors to his first standalone furniture gallery located at 4 Passage Sainte-Avoye, in the heart of the Marais district. The 2 700 square feet gallery will feature a succession of rooms showcasing the brand's new and existing work. Alongside Pierre Yovanovitch Mobilier pieces will be a selection of contemporary artworks. The gallery will officially open on October 13th, 2023, offering visitors complete immersion into the world of the designer. To commemorate the opening of the gallery, Pierre Yovanovitch tapped artist, and longtime friend, Claire Tabouret to create a special, limited edition series celebrating the 10 year anniversary of his iconic Asymmetry armchair design. Playing off of the themes of childhood, movement, and fragility, the chairs incorporate the artisanry of French craft specialists Atelier Jouffre, Manufacture Royale Bonvallet and L'Atelier Caraco. This series of unique pieces in honor of Asymmetry's 10th anniversary will be presented in Pierre Yovanovitch Mobilier's new exhibition space in Paris from October 13th to 28th, timed to Paris+ par Art Basel.
Les Nuits d'Été, Exhibition celebrating Villa Noailles Centenary
Les Nuits d'Été, Exhibition celebrating Villa Noailles Centenary
Date
June 23rd 2023 - January 14rd 2024
Opening in tandem with the international Design Parade Hyères festival, Pierre Yovanovitch has unveiled a site-specific scenography celebrating the centennial anniversary of Villa Noailles. As a longtime collaborator of the Art Center, Pierre Yovanovitch was selected to reimagine the original summer residence of the late Villa Noailles founders Charles and Marie-Laure de Noailles, who built the property a century ago. Paying homage to the couple's immense and eternal impact on the 20th century art scene, with a particular focus on Madame de Noailles's storied spirit, Yovanovitch incorporated pieces from the de Noailles archives as well as commissioning contemporary artworks. The scenography will be on view at Villa Noailles from June 23, 2023 – January 14, 2024.
Set Design of Rigoletto Opera at Theater Basel
Set Design of Rigoletto Opera at Theater Basel
Location
Basel, Switzerland
Date
January 21st - June 21st 2023
Pierre Yovanovitch has created the set design for Theater Basel's production of Giuseppe Verdi's Rigoletto, running from January 21st – June 21st in Basel, Switzerland. Yovanovitch was invited to design the set by acclaimed director Vincent Huguet. As a longtime opera enthusiast, this project is the realization of a lifelong dream for Yovanovitch, whose design work is primarily centered around residential and furniture design.With a focus on Rigoletto's tragic storyline and the universal themes of vengeance, naivety, and power, Yovanovitch has conceptualized a contemporary, moveable design scheme, creating a bold yet uncomplicated canvas for the psychologically complex storyline.
For more information on the production of Rigoletto, visit here.
Quartier Latin
Quartier Latin
Situated on Paris's Left Bank, this 3,200-square-foot, four-bedroom apartment was an exercise in repurposing a historic space to fit a contemporary family's lifestyle. To do so, Pierre Yovanovitch rearranged the floor plan of the  home which was once two buildings which were joined in the 1800s. Yovanovitch not only created custom furniture (including sofa, lighting and a dining table), he also commissioned site-specific art works from Pierre Marie, Delphine Messmer and Matthieu Cossé, among others. He brought in a number of contemporary art pieces from the likes of Xavier Daniels and Latifa Echakhch and incorporated vintage design works from Paavo Tynell, Angelo Lelli, Jouve and Armand-Albert Rateau, to name a few.
Association La Source Auction
Association La Source Auction
Venue
La Source Association Auction
Pierre Yovanovitch was delighted to participate, once again, in this year's La Source auction. As a part of program, creatives were tasked with reimagining the iconic Atelier ARTEK chair.
For this, Pierre created "Cio-Cio-San," a chair inspired by Puccini's opera, Madame Butterfly. The work incorporates the structural solidity of its beech wood frame with the aesthetic characteristics of a butterfly taking flight.
All proceeds from the sale of the chair were donated to help provide underprivileged young people with access to creative resources.
For more information, read this article.
Louis Vuitton PY Trunk
Louis Vuitton PY Trunk
Venue
"200 Trunks, 200 Visionaries: The Exhibition" – Louis Vuitton
Date
October - December 2022
Currently on view in New York City, Pierre Yovanovitch was one of 200 visionaries tasked with reimagining the iconic Louis Vuitton trunk in celebration of the brand's bicentennial birthday. As a part of this, Yovanovitch designed a trunk which is interpreted as a container of ideas symbolizing the creative process. In many ways it pays homage to the iconic Louis Vuitton trunk as a container of nostalgia, creative and emotional content.
Occupying the landmark Barney's New York building, Louis Vuitton has even commissioned a temporary revival of its iconic café Freds throughout the duration of the show.
For more information on the exhibition, visit: www.louisvuitton.com
Gagosian
Gagosian
For the Gagosian showcase at Paris+ par Art Basel, Pierre Yovanovitch wanted to create an immersive, architecturally-congruous viewing experience. The design of the booth, both in its geometrical angles and the access of light through the circular skylight cut out, is meant to create a place of tranquil reflection amidst an otherwise bustling art fair.
On view at Grand Palais Éphémère throughout the duration of Paris+ fair this October, this is Pierre Yovanovitch's first collaboration with Gagosian gallery.
For more information visit www.gagosian.com
Genius Loci
Genius Loci
On view until October 23, 2022, the Genius Loci exhibition, situated in the historic Parisian flat of the late designer Auguste Perret, features a custom chair by Pierre Yovanovitch along with 30 works by select international artists.
Inspired by the architect's shared passion for owls, Pierre Yovanovitch presents "Lady Margareth", a reimagined version of the Flirting armchair, which is adorned with winged armrests, gouged solid oak, and embroidery by Lesage.
The owl, which Pierre Yovanovitch has collected in all its forms since his childhood, is for Auguste Perret a symbol of wisdom and reason. It was represented with a compass on the logo of his agency.
For more information visit www.geniusloci-experience.com.
Lancement en boutique Dior Maison x Pierre Yovanovitch
Lancement en boutique Dior Maison x Pierre Yovanovitch
Venue
Dior Maison x Pierre Yovanovitch
Location
Paris, New York & London
Following the launch of the PY x Dior Maison collection at Nomad St. Moritz 2022, Pierre Yovanovitch joined Dior this fall for a series of private cocktail events at Dior's Paris flagship, New York City Fifth Avenue store and at the New Bond location in London to celebrate the in-store debut of the works and showcase new additions to the collection.
Timed to the cocktails, the new oxidized wood tabletop objects, including oxidized wood tray, tissue box and candle holder, among other items, were unveiled as new pieces to the PY x Dior collection.
The collection is available for purchase at Dior.com
Lasata
Lasata
Location
East Hampton, New York, USA
Our East Hampton project, "Lasata," was included in WSJ. Magazine's October Style issue. The historic property, once a vacation home to Jacqueline Bouvier Kennedy Onassis, is a great example of Pierre Yovanovitch's ability to revitalize a historic property to bring new life into the space while maintain the architectural integrity of the home.
Yovanovitch overhauled the entire interior architecture of the home, incorporating a combination of his own Pierre Yovanovitch Mobilier pieces, such as the Clam Chair and Stella Coffee Table, as well as creating custom-designed furniture and adding vintage design elements and contemporary art works.
To read more about the project visit wsj.com
Un printemps rue Beauregard
Un printemps rue Beauregard
Venue
Pierre Yovanovitch x Kamel Mennour
Pierre Yovanovitch and Kamel Mennour gallery unveil virtual exhibition entitled Un printemps rue Beauregard.
 The exhibition showcase, set within the designer's Paris showroom, features a curated selection of contemporary artwork featured alongside select Pierre Yovanovitch Mobilier furniture pieces.
This April, Pierre Yovanovitch has partnered with global art gallery, Kamel Mennour, to host a virtual exhibition showcasing contemporary art works and the designer's own furniture pieces staged within Yovanovitch's Paris showroom space. The virtual viewing room, which launches on Kamel Mennour's site on April 13th, 2022, invites the viewer on a contemplative stroll through different rooms showcasing a selection of art and design pieces curated by Yovanovitch and Mennour themselves. The exhibition is not only a reflection of the two creatives ongoing collaborative relationship, it also centers around the theme of living with art on a daily basis. From a Pierre Yovanovitch Mobilier sofa, to a Camille Henrot watercolor, the project allows viewers from around the world the chance to experience this fascinating interplay between art and design. The Online Viewing Room will be on view to the public at https://viewingroom.kamelmennour.com/ from April 28 – June 6, 2022.
Dior Maison x Pierre Yovanovitch
Dior Maison x Pierre Yovanovitch
This month, Pierre Yovanovitch unveils a new collaboration with Dior Maison, a collection of home objets. The collection pays hommage to the designer and Christian Dior's shared roots in Provence, France. The series features fifteen works, including: a table lamp, a mirror, a cigar box, a trinket tray, and four serving trays, among others. 
"I imagined a collection with a strong narrative design, where the unpredictable beauty of natural material dialogues with the rigor of design. Each object thus asserts its unique character," states the French interior architect, Pierre Yovanovitch.
Consistent with all Pierre Yovanovitch undertakings, the collection spotlights local savoir-faire methods, including the use of traditional woodworking and the use of sustainable materials wherever possible. This is Pierre Yovanovitch's second collaboration with Dior Maison, the first being his reinterpretation of the iconic Dior Medallion Chair which debuted at Salone del Mobile in September of 2021.
The objects collection will be available for purchase starting March 14th, 2022 in Dior selected stores.
Mama Bear Armchair at the Musée des Arts Décoratifs in Paris
Mama Bear Armchair at the Musée des Arts Décoratifs in Paris
Venue
Musée des Arts Décoratifs
Pierre Yovanovitch Mobilier is honored to have the Mama Bear Armchair inducted into the permanent collection of the renowned Musée des Arts Décoratifs in Paris, France. 
As one of Pierre Yovanovitch's original furniture designs, originally conceived in 2012 and first debuted publicly in 2017, the armchair is in many ways an embodiment of Yovanovitch's approach to design: combining an imaginative story-line with timeless savoir-faire.
"The Bear series is a nod to my passion for vintage American and Scandinavian furniture design from the first half of the 20th century, with a reference to the functional, simplistic and imaginative nature of that era. Available in three sizes – Papa Bear, Mama Bear and Baby Bear – this armchair is a part of a series inspired by the characters of the English tale Goldilocks and the three bears, " states Pierre Yovanovitch. 
The Mama Bear Armchair can be viewed in the permanent collection at the Musée des Arts Décoratifs during normal museum hours. 
NOMAD ST. Moritz
NOMAD ST. Moritz
Location
Saint-Moritz, Switzerland
Opening on March 1st, Pierre Yovanovitch Mobilier will present a body of furniture and lighting at Nomad St. Moritz in Switzerland. The showcase, entitled New Alpine, is inspired by the sophisticated simplicity and iconic craftsmanship of the Swedish "Sportstugemöbler" movement created by the late design visionary Axel Einar Hjorth. New Alpine will feature a series of new and existing works, including: a new sofa, chair, and lighting as well as existing tables. The installation will be on view throughout the week until the close of the fair on March 6, 2022.  For more information, visit: nomad-circle.com
Jasper Morrison Cork Bowls reinvented for La Source Association
Jasper Morrison Cork Bowls reinvented for La Source Association
Once again this year, Pierre Yovanovitch participated in the La Source Association auction. The theme was the reimagination of the iconic Jasper Morrison Cork Bowls for Vitra for which PY created two side tables on a red lacquered metal base. 
"The size and shape of Jasper Morrison's Cork Bowls gave me the idea to make tables out of them. I wanted something cheerful and poetic, so I turned them into flowers by sculpting their edge and adding a stem to them: two poppies, different in size and height, made of cork, oxidized patina and lacquered metal."
Named after the Poppy flower, the side tables are available at auction on drouot.com until December 12th. All profits from this auction will be donated to La Source, an association created by Gérard Garouste in 1991 to help underprivileged children and young people through creative work.
The Dior Maison Medallion Chair
The Dior Maison Medallion Chair
Venue
Salone del Mobile / Art Basel
Location
Milan, Italy / Miami, USA
Date
September 2021 / November 2021
This year, Pierre Yovanovitch was one of seventeen artists tapped by Dior Maison to reinterpret one of its iconic emblems: the medallion chair. A symbol of Louis XVI style that Christian Dior chose as soon as he founded his House, in order to seat guests at his fashion shows in a "sober, simple and above all classic and Parisian" décor, as he recounted in his memoirs. For the design of the chair, Yovanovitch reimagined the piece as a pair, as if the Medallion Chair was split in two. Almost as if the set belonged to Madame and Monsieur Dior, whose preferences differ. He utilized thick, rough, textured steel to bring the chair out of its historic context, giving it a contemporary and somewhat 'rebellious' aesthetic. For the upholstery, Yovanovitch incorporated the Dior monogram from the 70's and reimagined it in different colors and embroidery. For this, we collaborated with la maison Vermont who are deeply talented. An unprecedented and pluralistic collaboration, a reflection of the House's timeless modernity that reinvents the Dior dream and lets it live on. The reinvented Medallion Chairs were presented during Salone del Mobile in Milan in September 2021 and Art Basel fair in Miami in November 2021.
Introducing First Pierre Yovanovitch Mobilier Showroom Space
Introducing First Pierre Yovanovitch Mobilier Showroom Space
Following the launch of Pierre Yovanovitch Mobilier, PY has announced the opening of the brand's first-ever furniture showroom space in Paris. For the design of the space, Yovanovitch worked with Atelier Mériguet-Carrère to create custom wall colors and Kamel Mennour and Max Hetzler galleries to select an array of contemporary artworks for the space. The new showroom reflects Yovanovitch's signature approach to interior architecture as well as serving as a venue for clients to be able to experience his brand new furniture first-hand.
To book an appointment, email: showroom@pierreyovanovitch.com
Pierre Yovanovitch Announces the Launch of His Furniture Brand, Pierre Yovanovitch Mobilier
Pierre Yovanovitch Announces the Launch of His Furniture Brand, Pierre Yovanovitch Mobilier
Location
Place des Vosges, Paris
May 19th, French interior architect Pierre Yovanovitch is launching his first-ever furniture brand, Pierre Yovanovitch Mobilier, which runs in tandem with his interior architecture business. Building off of nearly two decades of creating custom haute-facture works for his interiors projects, and following the success of his two collections debuted for R & Company gallery (2017 and 2019), this marks a major step for Pierre Yovanovitch as his practice oversees all aspects from the design, to the production, and to the worldwide sales in-house. To announce the brand, Yovanovitch unveils 45 pieces of furniture and lighting with a special installation in the historic Académie de l'Architecture building in Paris's Place des Vosges from May 19th – 21st, 2021.
Pierre Yovanovitch Designs Rosé Bottle
Pierre Yovanovitch Designs Rosé Bottle
Location
Provence, France
Pierre Yovanovitch unveiled this summer "La Bastide de Peyrassol" the design of the new Domaine de Peyrassol vintage bottle.This rosé wine is perfectly representative of the spirit and soul of this estate in Provence, which has been transformed by its owner, Philippe Austruy, over the past 20 years. Building off of a longtime partnership, Austruy tapped Pierre Yovanovitch to design the bottle as a part of a greater mission to make the estate's rosés more reflective of their region and time. The bottle design reflects the architecture of the Commanderie de Peyrassol estate and serves as a homage to the natural tones and colors of the South of France. Light and airy both in aesthetic and taste, this rosé emulates its origins, and Yovanovitch's own hometown, of Provence.
A style photoshoot at the Château de Volonne, France
A style photoshoot at the Château de Volonne, France
Location
Provence, France
In conjunction with the launch of the new brand, Pierre Yovanovitch Mobilier, the interior architect wanted to set his new pieces in a environment that is dear to him : Provence. The furniture photoshoot happened at the Château de Volonne. It was an evidence to Pierre to tie in these new pieces to his Provence origins.
"Provence is a constant source of inspiration in my design work and is really central to this new furniture line in a number of ways. Having grown up in the region, and with my current home there, I find inspiration in the surrounding nature daily. The sunlight, with the region's epic sunsets, the seasonal variation in nature's textures from the deep colors and dense materiality of the forest, to the fragrant, bright sensory explosion of the lavender bloom of Plateau de Valensole. There is this dichotomy of beauty and fortitude – which sometimes can even border on hostility – with the nature of Provence that I find inspiring. It's all in my dna. Similarly, I wanted the new furniture brand to reflect the strength, tactileness and variety of Provence.
Next to Provence and inextricably linked to it, is Nice where I grew up. Nice and its area have a history of decorative arts and design, rooted in a unique cultural mix between Italy and France, that has had a profound influence on me. For example, incorporating ceramics in the furniture is a nod to the traditional craft of the town of Vallauris."