News
The Dior Maison Medallion Chair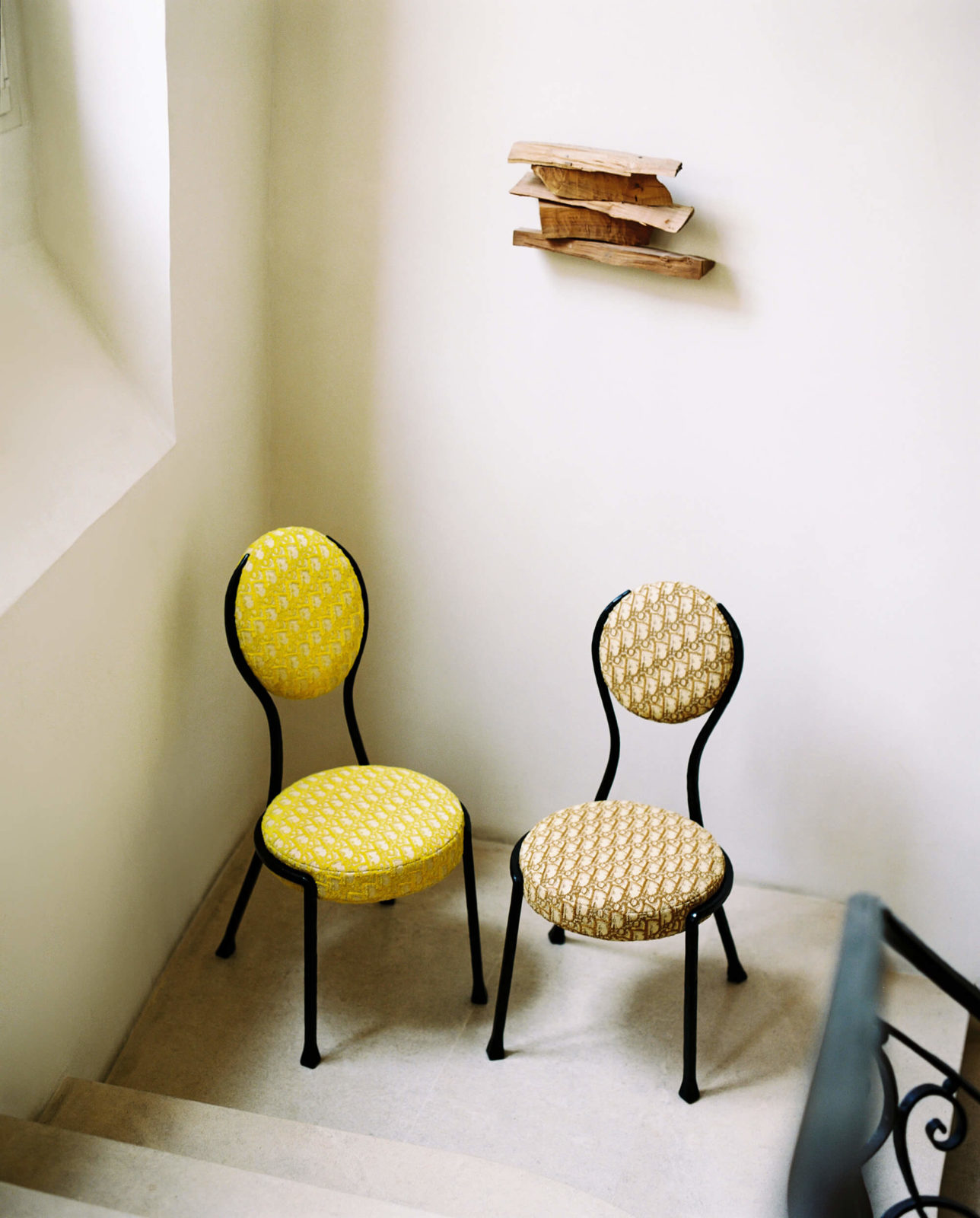 This September during Salone del Mobile, in Milan, Pierre Yovanovitch was one of seventeen artists tapped by Dior Maison to reinterpret one of its iconic emblems: the medallion chair. A symbol of Louis XVI style that Christian Dior chose as soon as he founded his House, in order to seat guests at his fashion shows in a "sober, simple and above all classic and Parisian" décor, as he recounted in his memoirs. For the design of the chair, Yovanovitch reimagined the piece as a pair, as if the Medallion Chair was split in two. Almost as if the set belonged to Madame and Monsieur Dior, whose preferences differ. He utilized thick, rough, textured steel to bring the chair out of its historic context, giving it a contemporary and somewhat 'rebellious' aesthetic. For the upholstery, Yovanovitch incorporated the Dior monogram from the 70's and reimagined it in different colors and embroidery. For this, we collaborated with la maison Vermont who are deeply talented. An unprecedented and pluralistic collaboration, a reflection of the House's timeless modernity that reinvents the Dior dream and lets it live on.
Introducing First Pierre Yovanovitch Mobilier Showroom Space
Introducing First Pierre Yovanovitch Mobilier Showroom Space
Following the launch of Pierre Yovanovitch Mobilier, PY has announced the opening of the brand's first-ever furniture showroom space in Paris. For the design of the space, Yovanovitch worked with Atelier Mériguet-Carrère to create custom wall colors and Kamel Mennour and Max Hetzler galleries to select an array of contemporary artworks for the space. The new showroom reflects Yovanovitch's signature approach to interior architecture as well as serving as a venue for clients to be able to experience his brand new furniture first-hand.
To book an appointment, email: showroom@pierreyovanovitch.com
Pierre Yovanovitch Announces the Launch of His Furniture Brand, Pierre Yovanovitch Mobilier
Pierre Yovanovitch Announces the Launch of His Furniture Brand, Pierre Yovanovitch Mobilier
Location
Place des Vosges, Paris
May 19th, French interior architect Pierre Yovanovitch is launching his first-ever furniture brand, Pierre Yovanovitch Mobilier, which runs in tandem with his interior architecture business. Building off of nearly two decades of creating custom haute-facture works for his interiors projects, and following the success of his two collections debuted for R & Company gallery (2017 and 2019), this marks a major step for Pierre Yovanovitch as his practice oversees all aspects from the design, to the production, and to the worldwide sales in-house. To announce the brand, Yovanovitch unveils 45 pieces of furniture and lighting with a special installation in the historic Académie de l'Architecture building in Paris's Place des Vosges from May 19th – 21st, 2021.
Pierre Yovanovitch Designs Rosé Bottle
Pierre Yovanovitch Designs Rosé Bottle
Pierre Yovanovitch unveiled this summer "La Bastide de Peyrassol" the design of the new Domaine de Peyrassol vintage bottle.This rosé wine is perfectly representative of the spirit and soul of this estate in Provence, which has been transformed by its owner, Philippe Austruy, over the past 20 years. Building off of a longtime partnership, Austruy tapped Pierre Yovanovitch to design the bottle as a part of a greater mission to make the estate's rosés more reflective of their region and time. The bottle design reflects the architecture of the Commanderie de Peyrassol estate and serves as a homage to the natural tones and colors of the South of France. Light and airy both in aesthetic and taste, this rosé emulates its origins, and Yovanovitch's own hometown, of Provence.
A style photoshoot at the Château de Volonne, France
A style photoshoot at the Château de Volonne, France
In conjunction with the launch of the new brand, Pierre Yovanovitch Mobilier, the interior architect wanted to set his new pieces in a environment that is dear to him : Provence. The furniture photoshoot happened at the Château de Volonne. It was an evidence to Pierre to tie in these new pieces to his Provence origins.
"Provence is a constant source of inspiration in my design work and is really central to this new furniture line in a number of ways. Having grown up in the region, and with my current home there, I find inspiration in the surrounding nature daily. The sunlight, with the region's epic sunsets, the seasonal variation in nature's textures from the deep colors and dense materiality of the forest, to the fragrant, bright sensory explosion of the lavender bloom of Plateau de Valensole. There is this dichotomy of beauty and fortitude – which sometimes can even border on hostility – with the nature of Provence that I find inspiring. It's all in my dna. Similarly, I wanted the new furniture brand to reflect the strength, tactileness and variety of Provence.
Next to Provence and inextricably linked to it, is Nice where I grew up. Nice and its area have a history of decorative arts and design, rooted in a unique cultural mix between Italy and France, that has had a profound influence on me. For example, incorporating ceramics in the furniture is a nod to the traditional craft of the town of Vallauris."
Kamel Mennour gallery new space in Paris
Kamel Mennour gallery new space in Paris
Venue
Galerie Kamel Mennour, rue Pont de Lodi
One more time, Pierre Yovanovitch was tapped by gallerist Kamel Mennour to design his new gallery space in Paris, location rue du Pont de Lodi.
"When I saw the new kamel mennour gallery site, it reminded me of a cloister with its row of windows and its succession of posts. After doing some researchabout the location, we wanted to maintain the building's original character while emphasizing its volume. The space also required access to a second floor, so we redesigned the staircase as an independent piece within the site. The objective of our work was to find the right balance between a space that disappears in the background of artistic expression, while also possessing a strong architectural framework." Pierre Yovanovitch
The new space opened to the public on December 5th, 2020 with "Simultanément", an exhibition by Daniel Buren and Philippe Parreno.